Creating stories to grow strong brands
In the media: NZBusiness article published 21 April 2020.
Husband and wife Nik Payne and Sarah Delany are devout believers in the theory that story comes before visuals when crafting a successful brand. Not surprisingly, their brand-focused design agency Mount Deluxe practises what they preach.
With their home on the North Shore, and their business based over the harbour bridge in Ponsonby, Nik Payne and Sarah Delany, co-directors of Mount Deluxe, regard Auckland's iconic 'coathanger' as a tangible divide separating business from family.
Not surprisingly, business and family are incredibly important to this couple, with family a relatively late chapter to their life-story.
After first meeting at design school, Nik and Sarah subsequently combined their talents to create their own brand-focused design agency ten years ago. Today they have a five-year-old daughter and seven-year old son – although it wasn't until 2017 that they finally tied the matrimonial knot after almost two decades together.
So what finally prompted that decision?
Nik says it was to bond the family unit and a desire to celebrate how far they had come. They had, after all, practically grown up together, he says.
The couple turned Sarah's 40th birthday party lunch into a surprise wedding.
"There was no formality, no drama, it was just a lovely little secret," recalls Sarah.
Apart from Sarah's maternity leave, when Nik had to engage staff to maintain business momentum, Mount Deluxe has functioned perfectly well with just the two of them and various contractors/suppliers as and when required – with Sarah driving creative and Nik slotting into the business management and finance role.
Both Nik and Sarah are comfortable performing client-facing business development, with the bulk of new business coming through referrals and networking. Nik says attending business events and schooling up on business issues, like sustainability, in turn helps them tell their clients' stories better.
Mount Deluxe has a number of long-term clients, but like many in their industry work is project to project. "You sometimes wonder where the next job is coming from. But it's a bit like magic; often when you think it, the work suddenly appears," says Sarah.
Business growth is all about building relationships and providing great service, she adds.
The couple agree that they gel well in the business, and the key is keeping everything professional. "Neither of us can afford to be precious about what we do individually, says Sarah. "So we work as colleagues."
"We're constantly striving to achieve the best possible outcome for the client within the allocated time and budget," explains Nik.
He says, as the company has matured, they've both come to understand its value and the value of the work they do. Working with mentors over the years has particularly helped in this regard.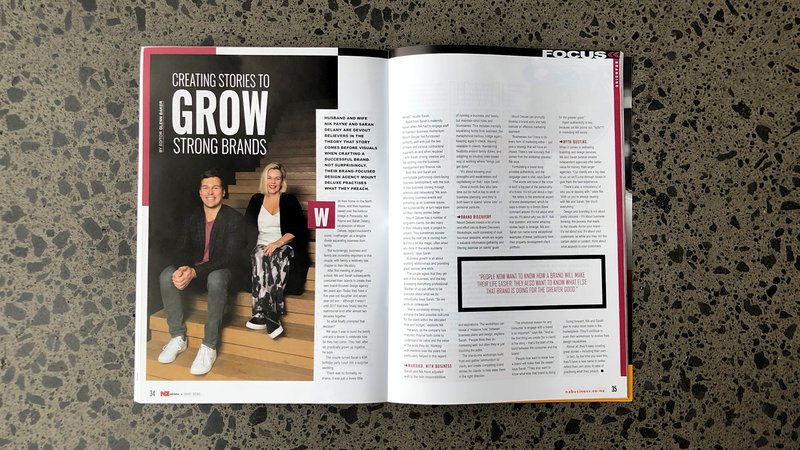 Married, with business
Sarah and Nik have adjusted well to the twin responsibilities of running a business and family, but maintain strict rules and boundaries. This includes mentally separating home from business (the metaphorical harbour bridge again), keeping egos in check, staying relatable to clients, maintaining flexibility around family duties, and adopting an intuitive roles-based way of working where "things just get done"."It's about knowing your strengths and weaknesses and capitalising on that," says Sarah.Once a month they also take time out for half a day to work on business planning, and they're both keen to spend "alone time" on personal pursuits.
Brand discovery
Mount Deluxe invests a lot of time and effort into its Brand Discovery Workshops, each consisting of dual two-hour sessions, which are largely a valuable information-gathering and filtering exercise on clients' goals and aspirations. The workshops can reveal a "massive hole" between business plans and design, explains Sarah. "People think they do marketing well, but often they're just touching the sides."The one-to-one workshops build trust and gather 'ammunition' to clarify and create compelling brand stories for clients; to help steer them in the right direction.Mount Deluxe can promptly develop a brand story and help execute an effective marketing approach."Businesses don't have to do every form of marketing either – just pick a strategy that will have an impact. There's real accuracy that comes from the workshop process," Nik says.Formulating a brand story provides authenticity, and the language used is vital, says Sarah."The words and tone of the voice is such a big part of the personality of a brand. It's not just about a logo."Nik refers to the emotional aspect of brand development, which he says is driven by a Simon Sinek comment around 'it's not about what you do, it's about why you do it'. Ask that question, and some amazing stories begin to emerge. Nik and Sarah can name some exceptional examples of these, particularly from their property development client portfolio."The emotional reason for any consumer to engage with a brand is so important," says Nik. "And so the first thing we create [for a client] is the story – that's the start of the bond between the consumer and the brand.""People now want to know how a brand will make their life easier," says Sarah. "They also want to know what else that brand is doing for the greater good."Again authenticity is key, because, as Nik points out, "bulls**t" in marketing still exists.
Myth-busting
When it comes to delivering branding and design services, Nik and Sarah believe smaller independent agencies offer better value for money, than larger agencies. "Our clients are a big deal to us, so we'll jump through hoops to give them the best experience."There's also a consistency of who you're dealing with," adds Nik. "With us you're always dealing with Nik and Sarah. We touch everything."Design and branding is not about pretty pictures – it's about business thinking; the process that leads to the visuals. As for your brand – it's not about you, it's about your customers; so while you may not like certain detail or content, think about what appeals to your customers.Going forward, Nik and Sarah plan to make more noise in the marketplace. They'll continue to push their workshops, to evolve their design capabilities.Above all, they'll keep creating great stories – including their own.In fact, by the time you read this, they'll have a new name to better reflect their own story. A case of practicing what they preach.